Getting Started
Help Scout provides several tools for developers to get the most out of the product:
We suggest spending time with Custom Apps first, because it's an easy way to create a lot of value for people on your team. Simply setup a webhook callback URL and you can push data to the customer sidebar quickly and securely. Start with Custom Apps, then check out the APIs to do something more complicated.
---
Generating an API Key
The Mailbox API and Docs API have separate API keys, which are available to paying Help Scout accounts. If you have a Free account, you will need to upgrade in order to use the API.
To generate a new API key, click the "person" icon on the top right of your account, next to the search, then click Your Profile.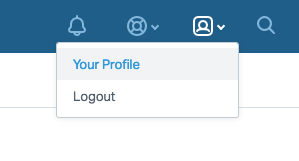 Next, click the Authentication link in the menu on the left, followed by the API Keys tab.
You can generate as many Mailbox API keys as necessary and label them. However, each User only has one Docs API key. You can't create additional ones or revoke them, all you can do is regenerate the key.
---
Building a Public Integration
Will you be marketing your project to the public? Awesome! But before you launch anything, please read over our brand guidelines to make sure everything looks tip top. When it's finished, be sure to let us know so we can tell everyone about it.